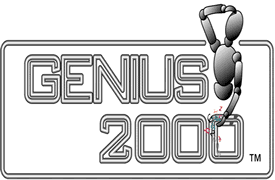 Anagram Genius/Crossword Maestro Affiliate Scheme
Do you run a website or an opt-in mailing list where you could mention anagrams or the Anagram Genius software? If so we are willing to pay you generous commission on all sales of our software that result.
The main points of the scheme are:
20% commission on all sales of Anagram Genius, Crossword Maestro, packages of both these products and upgrades up to two years after the visitor clicks through from your site!
Second tier payments. If anyone you refer also signs up as an affiliate, we will pay you a finder's fee of 15% of all their sales commission earnings! These payments will continue for as long as they continue earning money and you continue signed up as an affiliate. Even a single click on one of your special links could provide you with a long-term income.
Payments are made monthly once the total amount owed exceeds a small minimum value. (Owed money carries over if this threshold is not reached.)
Real-time stats. Once signed up you can access real-time statistics 24 hours per day! These statistics include the total number of clicks on your special links, commission due and even the number of trial software downloads that you are responsible for!
Commission is made on the full amount of the sale (net of sales tax). There are no deductions!
Click here for more details
Signing up is simply a matter of filling in a form. We will instantly issue you with special links which you can place on your website and immediately start earning commission.