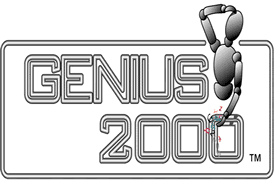 Genius 2000 Software Affiliate Scheme
This page gives a detailed description of how our affiliate scheme operates technically. Very broadly the purpose of the scheme is to encourage you to refer visitors to our site by paying you commission long-term on any product sales they make. In addition we will reward you for referring other affiliates by paying you a percentage of any sales commission they earn.
"Owned" Visitors
Once you have signed up as an affiliate we will give you some specially coded HTML links to use on your website. These links identify that the visitor has come from you and enable us to trace the activity of the visitor and pay you commission.
We will continue to pay you sales commission for as long as you "own" the visitor enabling you to profit when they subsequently upgrade their software or purchase other products. Ownership starts the moment they click on one of your coded links and finishes when one of three things happen:
Two years elapse since the last time they clicked on one of your coded links.
You cease to be an affiliate. (e.g. You terminate the affiliate agreement.)
The visitor clicks on a coded link belonging to another affiliate (at which point the new affiliate "owns" them).
You should note that this long-term "ownership" of a visitor makes the Genius 2000 scheme greatly more favourable to affiliates like yourself than other schemes where you only earn commission on sales that happen immediately after they click on your link. In such alternative schemes you earn nothing if they postpone their decision a few days and order later or if having ordered they subsequently come back and order further products. With our scheme you continue to profit from your referral even potentially years after you first referred them.
Sales Commission
Sales commission is earned whenever an "owned" visitor of yours purchases one of the products in the scheme. The products in the scheme are Anagram Genius for Windows, Crossword Maestro for Windows, any package products for both Anagram Genius for Windows and Crossword Maestro for Windows and upgrade product where existing customers pay for new or future versions of Anagram Genius for Windows or Crossword Maestro for Windows.
Again unlike other schemes we pay commission on the entire sales amount (after sales tax). We make no deductions for credit card commission, bank charges, manufacturing costs, shipping costs, supports costs or otherwise. We bear these costs ourselves from the percentage of the sale revenue that we keep. The sales percentage we pay you is the amount on offer when sign up as an affiliate. It will also be visible when you log on to receive your online statistics.
A slight complication is that the prices we quote are inclusive of sales tax so the "real" sale price of a product will vary depending on whether the customer is within the European Union or not. Sometimes the amount charged to the credit card is equal to the sale price and sometimes part of it is sales tax collected by us on behalf of the government. i.e. Internally, we have two prices depending on the geographical location of the customer.
e.g. Supposing your sales commission percentage is 20% and one of your owned visitors purchases a product from us for 39.95 plus 5.95 for the service of sending backup CD-ROMs giving a total price of 45.90. If the customer is in the European Union this is a price that includes sales tax (currently 17.5%) making the actual price 39.06 plus 6.84 VAT (sales tax). The VAT belongs to the UK government and is collected by us on their behalf. You would receive 20% of the 39.06 which is equal to 7.81. If the customer was in the US (say), the entire 45.90 would be the sales price and you would receive 9.18.
Affiliate Commission
Affiliate Commission is how we reward you for referring people who sign up as affiliates themselves and refer other people. We do this by paying you a percentage of the money we pay them in sales commission for as long as you remain an affiliate. This means that you could potentially earn a long-term income from the scheme simply by referring a single visitor! The Affiliate Commission rate that applies to you is the one on offer when you sign up and will appear on your stats when you log in.
Essentially what happens is that if one of your "owned" visitors signs up as an affiliate, a record of this is made in the database and you will start earning commission each time they earn sales commission. e.g. Supposing your Affiliate Commission rate is 15%. This means that for every 100 they earn in sales commission you will earn 15! This money becomes owed to you the moment it is earned by them.
How we trace "owned" customers
We trace "owned" customers in a number of ways. These include:
When the visitor clicks on one of your coded links we place two cookies on the computer they are using, one for the anagramgenius.com domain (and subdomains) and one for the crosswordmaestro.com domain (and subdomains). The cookie contains an id that uniquely identifies you. The expiry time for the cookie is set at two years.
If the visitor interacts with the site in such a way that they give us their email address (e.g. they buy a product or supply an email address as part of downloading trial software), we record your ownership of them (from the cookie) next to their email address in our customer database. We also record the last time they interacted with the site.
These methods give us two opportunities to correctly pay you commission when they order. If they are using the same computer that they were using when they clicked through from your site, the cookie should still be present and the order system can grab the id and correctly allocate you your commission when the sale completes. The recording of your affiliate id next to their email address means that even if they were to order from a different machine or lose the cookie (e.g. after reformatting their hard drive), the system will still pay you the correct commission as you can be identified from the customer's email address.
We can even trace orders when the customer pays offline! Even cheque (check) payments require the customer to go through some of the ordering process and by the time they reach the instructions, their order details and any affiliate ID has been added to the customer database enabling the order to be traced when it is manually entered on receipt of the money. As an extra precaution, the customer is requested to print out the order form which includes any affiliate ID stored as a cookie.
Another technique we use is to associate a priority with each affiliate in the database. This priority figure is used to decide whether to change ownership of a visitor when a link is clicked on. i.e. Ownership is only changed when the new affiliate has the same or higher priority than the visitor's current "owner". This enables us to use coded links to trace the response to our advertising without disturbing your ownership if, say, one of your owned visitors were to follow our advertising after clicking on one of your coded links.
Obviously no method is perfect but the techniques we use should result in you losing only a very small percentage of what would otherwise have been owed to you. Again, alternative schemes do far less to trace sales.
Payment Threshold
This is the minimum amount that needs to be due to you before we will make a payment. This limit exists simply for us to avoid having to make lots of very small payments with all the associated costs. Once the amount owed to you is greater than the threshold amount, the full amount due to you will be paid. i.e. The amounts carry over.
Payment methods
Currently commission is calculated and stored in pounds sterling which is our local currency. (We are a business located in England.) However, we welcome affiliates from all over the world and can pay by other methods and in other currencies including Paypal. Please contact us to discuss this if this issue is important to you. We will do our best to accommodate you.