Windows Vista
A Windows Vista compatible version of Anagram Genius version Nine is now available. It corrects problems which were affecting some customers.
A free upgrade is available to existing paid customers. To get your free upgrade, please go to this URL:
http://www.anagramgenius.com/regcodes/
and enter the email address which you used when you purchased. Upgrade details will then be sent to it. If you no longer have access to that email address, please contact us with your full name, postal address and previous email address and we'll update our records.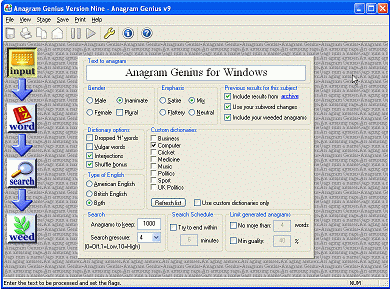 Anagram Genius version Nine!
A major new version of your software has been released!
Version Nine involves radical improvements to almost every aspect of the software!
Some of the improvements include:
A completely new user interface. The user interface works in a similar way to version 8 but has been completely rewritten. The window can now be maximised to the full size of the screen and many many more anagrams and subwords can be seen at once. Substantial amounts of graphic design have been done.
Improved anagram generation. Hundreds of hours of extra work have been made to the lexicon and numerous improvements have been made to the anagram generation methods resulting in far better results. The lexicon is now 150000 words and phrases. (Version 8 had a 100000 word lexicon.)
Integration with the Anagram Genius archive. All the thousands of brilliant anagrams in the archive are now displayed by the software and you can submit your own new discoveries for consideration directly from within the program!
Compulsory words. Words can be made compulsory so they will appear in all anagrams. This is an extremely effective method for finding highly relevant anagrams and making anagrams of very long subjects.
Weeded anagrams and subword changes are preserved. The software now allows you to build up the weeded list over several attempts - even over several runs without throwing away any of your work. Changes you make to the subwords of one subject can even be applied to another closely related subject saving you having to go through the word list again!
Multiple custom dictionaries. Instead of just a few categories and a single "user dictionary", you can now have any number of custom dictionaries supporting a potentially infinite number of categories and even enabling some support for other languages!
There are numerous other improvements! Why not upgrade and find out what they are!
Customers of version 8 can upgrade for a big discount (see the order page for pricing in your local currency). The software is downloadable so you can have it up and running immediately.
Crossword Maestro is the remarkable crossword solving software written by the same author as Anagram Genius. We are also currently running a special offer where Anagram Genius customers can upgrade their software and purchase this remarkable product at a highly discounted price! Furthermore, Crossword Maestro comes with a 30-day money-back guarantee so if you aren't completely happy with the software you can get a refund of the all the extra money you paid above the cost of the upgrade and be no worse off than if you had just bought the upgrade! Why not try it now?
Keep in Touch
In order for us to keep you updated about new versions of your software it is very important that you keep us up to date with changes to your email address.
If you have changed your email address since purchasing or would prefer us to use a different longer-term address, please use this form to change it.
The Anagram Genius Archive
We are slowly building an online archive of the very best anagrams discovered with the Anagram Genius software.
If you have discovered an original, truly excellent anagram of a well-known subject then this is your chance to make your name part of anagramming history and submit the anagram to the archive. All contributions will be acknowledged.
Crossword Maestro
The author of Anagram Genius, William Tunstall-Pedoe, has spent huge amounts of his time developing another major software product called Crossword Maestro which solves cryptic (and non-cryptic) crosswords and explains in plain English how the clues work!
alt.anagrams
The usenet group alt.anagrams is a great forum for discussing and sharing anagrams with other enthusiasts. Participating will give you a great chance to compare your skills with other anagrammatists!
Documentation
The documentation for the software can be accessed by pressing F1 or using the Help menu. It is also online at this location.